Rabbits Full of Magic
18 April 2010
Historical 3D Images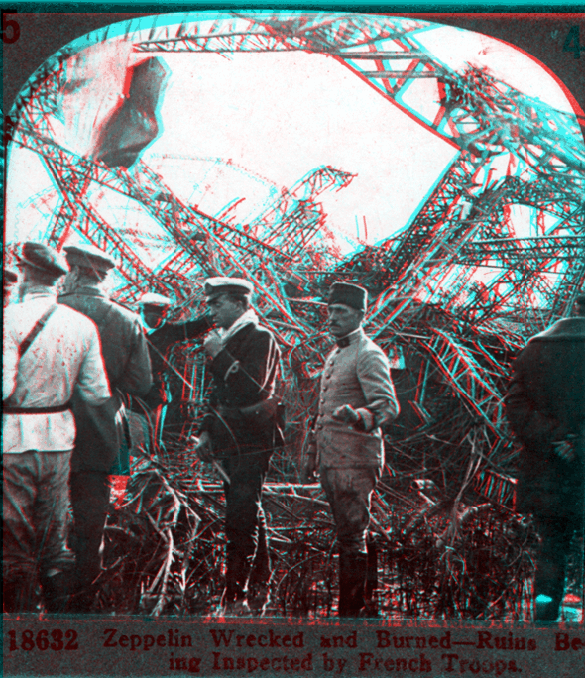 Wow! Look at history in a way you have never thought of before! 3 dimensional photography was actually in practice since very close to the beginning of the 20th century, as you can see in this collection of
Keystone Stereo Views
. These are stereoscopic photographs from WORLD WAR I, so you get to see downed zeppelins (above), the Arch of Triumph, American doughboys, shots from the trenches, and more, in glorious 3d. Amazing, and kind of bizarre. It almost gives a whole new spin on the idea of "retro futurism".
Here's another website,
a blog by Tom Troceen
, which features a number of historic stereoscopic images converted into red-blue anaglyphs. Included is a genuine 3d image taken of none other than President Abraham Lincoln. Lastly, here's a really old -- Victorian? -- image of a lady using an ancient Stereoscope machine to view 3 dimensional images. Before the red-blue glasses technique, people used machines that work in a principle similar to the ViewMaster of the 1980s. Essentially this is Victorian Virtual Reality:
I'm really sad that I gave away my last pair of 3d glasses. This week I hope to successfully make my own pair.
Archives
Mar 1, 2007 Mar 4, 2007 Mar 15, 2007 Mar 18, 2007 Mar 27, 2007 Apr 4, 2007 Apr 5, 2007 Apr 7, 2007 Apr 11, 2007 Apr 14, 2007 Apr 18, 2007 Apr 20, 2007 Aug 8, 2008 Aug 12, 2008 Aug 16, 2008 Aug 17, 2008 Aug 20, 2008 Aug 21, 2008 Aug 22, 2008 Aug 25, 2008 Aug 29, 2008 Sep 2, 2008 Sep 6, 2008 Sep 19, 2008 Sep 28, 2008 Sep 30, 2008 Oct 1, 2008 Oct 9, 2008 Oct 16, 2008 Oct 21, 2008 Nov 1, 2008 Nov 12, 2008 Nov 13, 2008 Nov 18, 2008 Nov 19, 2008 Nov 22, 2008 Nov 29, 2008 Dec 2, 2008 Dec 8, 2008 Dec 9, 2008 Dec 19, 2008 Jan 5, 2009 Jan 8, 2009 Jan 14, 2009 Jan 16, 2009 Jan 17, 2009 Jan 18, 2009 Jan 21, 2009 Jan 24, 2009 Jan 25, 2009 Feb 2, 2009 Feb 4, 2009 Feb 8, 2009 Feb 9, 2009 Feb 11, 2009 Feb 15, 2009 Feb 16, 2009 Feb 19, 2009 Feb 21, 2009 Feb 23, 2009 Feb 24, 2009 Feb 25, 2009 Mar 1, 2009 Mar 2, 2009 Mar 5, 2009 Mar 12, 2009 Mar 14, 2009 Mar 16, 2009 Mar 19, 2009 Mar 20, 2009 Mar 23, 2009 Mar 26, 2009 Mar 29, 2009 Apr 1, 2009 Apr 2, 2009 Apr 7, 2009 Apr 8, 2009 Apr 11, 2009 Apr 13, 2009 Apr 15, 2009 Apr 20, 2009 Apr 22, 2009 Apr 23, 2009 Apr 25, 2009 Apr 29, 2009 May 3, 2009 May 13, 2009 May 16, 2009 May 18, 2009 May 21, 2009 May 22, 2009 May 23, 2009 May 26, 2009 May 27, 2009 May 30, 2009 May 31, 2009 Jun 1, 2009 Jun 3, 2009 Jun 6, 2009 Jun 7, 2009 Jun 11, 2009 Jun 14, 2009 Jun 18, 2009 Jun 23, 2009 Jun 24, 2009 Jun 25, 2009 Jun 27, 2009 Jul 2, 2009 Jul 3, 2009 Jul 7, 2009 Jul 16, 2009 Jul 19, 2009 Jul 20, 2009 Jul 23, 2009 Jul 25, 2009 Jul 26, 2009 Jul 29, 2009 Aug 2, 2009 Aug 5, 2009 Aug 7, 2009 Aug 8, 2009 Aug 15, 2009 Aug 20, 2009 Aug 22, 2009 Aug 27, 2009 Sep 1, 2009 Sep 4, 2009 Sep 6, 2009 Sep 8, 2009 Sep 13, 2009 Sep 17, 2009 Sep 22, 2009 Sep 27, 2009 Sep 30, 2009 Oct 2, 2009 Oct 6, 2009 Oct 13, 2009 Oct 17, 2009 Oct 19, 2009 Oct 28, 2009 Oct 30, 2009 Nov 1, 2009 Nov 2, 2009 Nov 4, 2009 Nov 10, 2009 Nov 15, 2009 Nov 19, 2009 Nov 23, 2009 Nov 24, 2009 Nov 25, 2009 Nov 27, 2009 Nov 30, 2009 Dec 3, 2009 Dec 8, 2009 Dec 13, 2009 Dec 15, 2009 Dec 18, 2009 Dec 23, 2009 Dec 24, 2009 Jan 1, 2010 Jan 2, 2010 Jan 3, 2010 Jan 4, 2010 Jan 6, 2010 Jan 7, 2010 Jan 11, 2010 Jan 19, 2010 Jan 24, 2010 Jan 29, 2010 Jan 30, 2010 Jan 31, 2010 Feb 1, 2010 Feb 4, 2010 Feb 5, 2010 Feb 8, 2010 Feb 12, 2010 Feb 13, 2010 Feb 14, 2010 Feb 15, 2010 Feb 22, 2010 Feb 23, 2010 Feb 26, 2010 Feb 28, 2010 Mar 5, 2010 Mar 6, 2010 Mar 8, 2010 Mar 9, 2010 Mar 12, 2010 Mar 13, 2010 Mar 14, 2010 Mar 18, 2010 Mar 20, 2010 Mar 25, 2010 Mar 28, 2010 Mar 29, 2010 Mar 30, 2010 Apr 1, 2010 Apr 6, 2010 Apr 9, 2010 Apr 16, 2010 Apr 18, 2010 Apr 23, 2010 Apr 28, 2010 May 1, 2010 May 2, 2010 May 3, 2010 May 5, 2010 May 6, 2010 May 12, 2010 May 13, 2010 May 15, 2010 May 17, 2010 May 24, 2010 May 27, 2010 May 30, 2010 Jun 3, 2010 Jun 7, 2010 Jun 8, 2010 Jun 9, 2010 Jun 10, 2010 Jun 14, 2010 Jun 16, 2010 Jun 17, 2010 Jun 18, 2010 Jun 20, 2010 Jun 21, 2010 Jun 22, 2010 Jun 24, 2010 Jun 25, 2010 Jun 26, 2010 Jun 27, 2010 Jun 29, 2010 Jun 30, 2010 Jul 4, 2010 Jul 5, 2010 Jul 8, 2010 Jul 9, 2010 Jul 11, 2010 Jul 12, 2010 Jul 13, 2010 Jul 15, 2010 Jul 19, 2010 Jul 21, 2010 Jul 23, 2010 Jul 26, 2010 Jul 29, 2010 Jul 30, 2010 Aug 8, 2010 Aug 13, 2010 Aug 14, 2010 Aug 20, 2010 Aug 21, 2010 Aug 27, 2010 Sep 1, 2010 Sep 9, 2010 Sep 15, 2010 Sep 17, 2010 Sep 24, 2010 Sep 27, 2010 Oct 2, 2010 Oct 3, 2010 Oct 4, 2010 Oct 8, 2010 Oct 11, 2010 Oct 21, 2010 Oct 22, 2010 Oct 28, 2010 Oct 29, 2010 Nov 1, 2010 Nov 6, 2010 Nov 12, 2010 Nov 13, 2010 Nov 17, 2010 Nov 22, 2010 Nov 25, 2010 Nov 27, 2010 Dec 5, 2010 Dec 8, 2010 Dec 10, 2010 Dec 14, 2010 Dec 22, 2010 Dec 25, 2010 Jan 4, 2011 Jan 5, 2011 Jan 11, 2011 Jan 12, 2011 Jan 16, 2011 Jan 17, 2011 Jan 18, 2011 Jan 22, 2011 Jan 23, 2011 Jan 25, 2011 Jan 26, 2011 Feb 1, 2011 Feb 14, 2011 Feb 15, 2011 Feb 18, 2011 Feb 19, 2011 Feb 21, 2011 Feb 24, 2011 Mar 25, 2011 Mar 26, 2011 Mar 27, 2011 Mar 28, 2011 Mar 31, 2011 Apr 4, 2011 Apr 8, 2011 Apr 14, 2011 Apr 19, 2011 Apr 20, 2011 Apr 24, 2011 May 7, 2011 May 16, 2011 May 17, 2011 May 19, 2011 May 20, 2011 May 22, 2011 May 23, 2011 May 24, 2011 Jun 1, 2011 Jun 14, 2011 Jun 16, 2011 Jun 23, 2011 Jun 29, 2011 Jul 16, 2011 Aug 5, 2011 Aug 9, 2011 Aug 10, 2011 Aug 11, 2011 Aug 19, 2011 Aug 20, 2011 Aug 24, 2011 Aug 25, 2011 Sep 6, 2011 Sep 11, 2011 Sep 20, 2011 Sep 28, 2011 Oct 12, 2011 Nov 6, 2011 Dec 1, 2011 Dec 3, 2011 Dec 9, 2011 Dec 21, 2011 Jan 3, 2012 Jan 4, 2012 Jan 10, 2012 Jan 11, 2012 Jan 21, 2012 Jan 23, 2012 Jan 25, 2012 Feb 1, 2012 Feb 6, 2012 Feb 13, 2012 Feb 14, 2012 Feb 17, 2012 Feb 22, 2012 Feb 24, 2012 Feb 27, 2012 Feb 29, 2012 Mar 5, 2012 Mar 8, 2012 Mar 11, 2012 Mar 17, 2012 Mar 22, 2012 Mar 27, 2012 Mar 31, 2012 Apr 4, 2012 Apr 6, 2012 Apr 8, 2012 Apr 10, 2012 Apr 13, 2012 Apr 17, 2012 May 4, 2012 May 6, 2012 May 30, 2012 Jun 5, 2012 Jun 11, 2012 Jun 13, 2012 Jun 20, 2012 Jun 29, 2012 Jul 1, 2012 Jul 16, 2012 Jul 18, 2012 Aug 6, 2012 Aug 8, 2012 Aug 10, 2012 Aug 12, 2012 Aug 22, 2012 Aug 24, 2012 Sep 10, 2012 Sep 11, 2012 Sep 22, 2012 Sep 28, 2012 Oct 5, 2012 Oct 18, 2012 Nov 12, 2012 Nov 13, 2012 Nov 20, 2012 Dec 9, 2012 Dec 17, 2012 Dec 20, 2012 Jan 4, 2013 Jan 9, 2013 Jan 11, 2013 Jan 13, 2013 Jan 19, 2013 Jan 20, 2013 Jan 30, 2013 Feb 1, 2013 Feb 4, 2013 Feb 7, 2013 Feb 9, 2013 Feb 18, 2013 Feb 22, 2013 Mar 1, 2013 Mar 12, 2013 Mar 21, 2013 Mar 26, 2013 Apr 1, 2013 Apr 3, 2013 Apr 18, 2013 Apr 22, 2013 Apr 27, 2013 Jun 18, 2013 Jun 27, 2013 Jul 4, 2013 Jul 7, 2013 Jul 8, 2013 Jul 11, 2013 Jul 15, 2013 Jul 22, 2013 Aug 11, 2013 Aug 23, 2013 Aug 27, 2013 Sep 5, 2013 Sep 10, 2013 Sep 14, 2013 Sep 19, 2013 Sep 30, 2013 Oct 23, 2013 Oct 27, 2013 Nov 21, 2013 Dec 7, 2013 Dec 17, 2013 Jan 1, 2014 Jan 2, 2014 Jan 5, 2014 Jan 9, 2014 Jan 15, 2014 Jan 16, 2014 Jan 23, 2014 Jan 28, 2014 Jan 29, 2014 Jan 30, 2014 Feb 8, 2014 Feb 11, 2014 Feb 14, 2014 Feb 17, 2014 Feb 22, 2014 Mar 9, 2014 Mar 18, 2014 Mar 20, 2014 Mar 28, 2014 Apr 6, 2014 Apr 8, 2014 Apr 16, 2014 Apr 21, 2014 May 1, 2014 May 5, 2014 May 15, 2014 May 17, 2014 Jun 1, 2014 Jun 4, 2014 Jun 12, 2014 Jun 13, 2014 Jun 30, 2014 Jul 25, 2014 Aug 9, 2014 Aug 20, 2014 Aug 27, 2014 Aug 29, 2014 Oct 1, 2014 Oct 14, 2014 Oct 25, 2014 Oct 27, 2014 Nov 4, 2014 Nov 28, 2014 Jan 2, 2015 Feb 1, 2015 Feb 15, 2015 Feb 19, 2015 Feb 23, 2015 Mar 4, 2015 Mar 5, 2015 Mar 9, 2015 Mar 11, 2015 Mar 13, 2015 Mar 22, 2015 Mar 29, 2015 Mar 30, 2015 Apr 12, 2015 May 1, 2015 May 15, 2015 May 25, 2015 Jun 8, 2015 Jun 10, 2015 Jun 24, 2015 Jun 25, 2015 Jul 25, 2015 Aug 14, 2015 Aug 25, 2015 Aug 28, 2015 Sep 25, 2015 Nov 18, 2015 Nov 21, 2015 Dec 22, 2015 Dec 26, 2015 Dec 31, 2015 Jan 11, 2016 Mar 19, 2016 May 1, 2016 Jun 11, 2016 Jul 9, 2016 Jul 19, 2016 Aug 18, 2016 Nov 11, 2016 Nov 19, 2016 Feb 20, 2017 Apr 20, 2017 May 28, 2017 Jun 30, 2017 Aug 3, 2017 Feb 14, 2018 Mar 18, 2018 Aug 19, 2018 Aug 24, 2018 May 13, 2019 Apr 10, 2020 May 30, 2020
Subscribe to Posts [Atom]